Omilon Connect - Boosts the user by improving existing EHR
Speech recognition available in all EHRs

All functions in one place: speech recognition, digital dictation, automation of administrative tasks, document improvement and statistics

Scalable with identity management and easy login for users


CAPTURE - Captures information and meaning from the clinical narrative

IMPROVE - Improves the health care experience and the information quality

DELIVER - Delivers the information in the right form into the right system
Omilon Connect is our unique software designed to improve and ease the documentation process.
Omilon offers a palette of different modules or applications, all designed to optimize the healthcare experience for both physician, patient and administrative personell. The solution is divided into the following areas, all tied together and distributed by our own technology Omilon Connect. The system can be configured to use all the modules connected or separated as the customer prefers. On the Nordic market, Omilon Connect has been a game changer for older systems, as these can now be upgraded with new functions without requiring API access.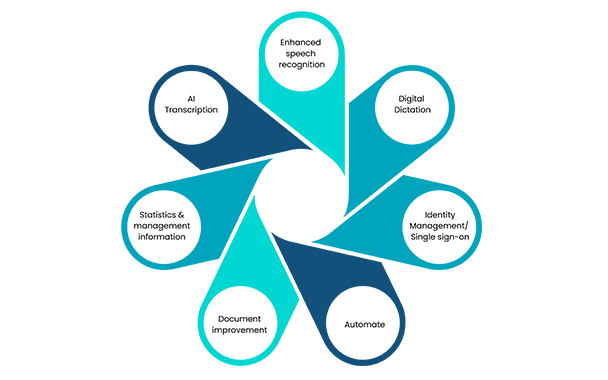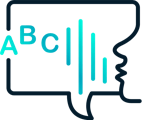 Speech Recognition
Omilon provides enhanced speech recognition through the Omilon Connect technology. This includes dictation-on-the- cursor in legacy systems, full navigation in structured forms of EHRs, and more. It works seamlessly with all the major speechrecognition systems, including Dragon Medical One, Dragon Speechkit and SpeechMagic.

Digital Dictation
A workflow with a long history, and still the backbone of the documentation process in many areas of the healthcare sector. Omilon includes digital dictation solutions for the desktop, for mobile devices, integrated in the clinical workflow, stand-alone. Digital dictation also works tightly integrated with speech recognition.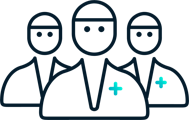 Identity management & single sign-on
All tools within Omilon Connect can be integrated into an identity management solution. The technology can also offer simple login across various systems, eg synchronization of roles and rights information.

Automate
Automate is an Omilon module that combines speech recognition with commands to add exponential effectivity gains for the physicians. It provides voice commands both at the application level and operating system level. It can also be used for multi-step commands to execute a long sequence of commands. One of the most impressive features is how it can fill out a long structured form with just one simple command. Automate can also provide easy transfer of data between client applications.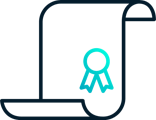 Document Improvement
All medical documentation must be coded. Diagnose codes, Operation Codes, Procedure Codes, Workflow Codes etc. This is an error prone and time consuming job. Omilon Connect includes a Coding Assistant that supports this work, and can even suggest for a physician when a certain code can be made more specific.

Statistics & Management Information
All tools in Omilon Connect collect and store statistical information in common database, optimized for the extraction of information in Business Intelligence systems. Pre defined statistics are part of the toolset. The Omilon Connect technology can even be defined to collect statistical information about the clinical systems, and make this information in the same database, enabling a BI operator to define advanced statistics across multiple clinical and administrative systems.  

AI Transcription
AI Transcription is an optimized version of the digital dictation workflow, where the recorded dictations are automatically converted to text, and optionally restructured to fit the specific form in the EHR system. The transcriptionist function is reduced to being simply validation and possible correction of the automatically transcribed dictation. Furthermore the AI Transcription has integrations to a number of EHR systems, where the validated text automatically will be correctly delivered.
Omilon Connect Summary - An enabler
Connect speech recognition tightly with the EHR, providing enhanced speech recognition:
- Speech Recognition
- Voice Editing
- Voice Navigation
- Speech Forms
Connect the EHR and the Coding Assistant
Connect the EHR with Documentation Improvement
Connect EHR with Digital Dictation
Connect EHR workflow with AI transcription